Salutec water filtration systems use the leading German brands of water filter cartridges to create pure, great tasting water from your tap. The premium quality, plant-based, active carbon core is made from coconut shells and microporous zeolite, a highly absorbent, mineral-rich clay that removes contaminants while leaving intact the vital minerals we need for good health.
Scientifically proven to remove more than 99.9% of bacteria, hormones, medical residues, pesticides, antibiotics and more.
The sintered, coconut shell Alvito cartridges have the greatest density of activated vegetable-based carbon in a water filter cartridge, resulting in its extraordinary ability to remove such a high level of contaminants from the water. Our water filters also provide a high-water flow rate of up to 7 litres per minute depending on your cartridge type, meaning there's no more frustration waiting for your kettle to fill!
| Cartridge Type | Order No: | Charcoal Cont. % | Flow Rate Litres p. min. at 4 Bar | Pore Size of the Core | Pore Size of the Hollow Fibre | Filtration Capacity | Swirler Possible |
| --- | --- | --- | --- | --- | --- | --- | --- |
| ABF Primus SD Blue | 311 | ca. 90 | ca. 4.0 | 0.45 μ | - | 8.000 litres ca. 33 l.p.d. | Yes |
| ABF Duplex SD Red | 315 | ca. 90 | ca. 7.0 | 1.5 μ | 0.15 μ | 6.000 litres ca. 33 l.p.d. | Yes |
| ABF Primus CLC Turquoise | 312 | ca. 90 | ca. 4.0 | 0.45 μ | - | 8.000 litres ca. 44 l.p.d. | Yes |
| NFP Premium | 250 | ca. 70 | ca. 2.0 | 0.45 μ | - | 10.000 litres ca. 55 l.p.d. | No |
Worktop or under-sink filter – you choose!
Water Wise offers two types of convenient water filter systems to suit your needs.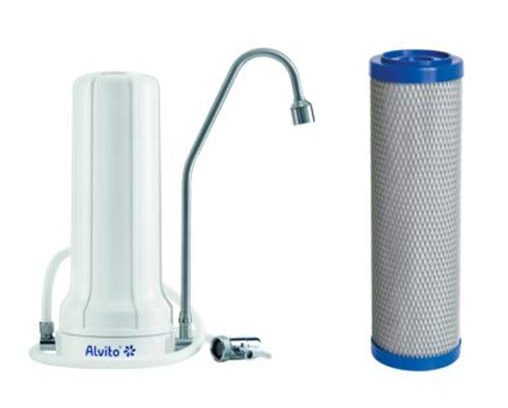 Quick and easy to install, our worktop water filters connect directly to your tap to provide clean, natural drinking water. This filter is ideal for people live in temporary or rented accommodation. Cartridges are simple to replace and the system is also suitable for swirlers if desired. Our filters are available in PP and stainless steel and come as a complete set that is easy to connect to your existing tap.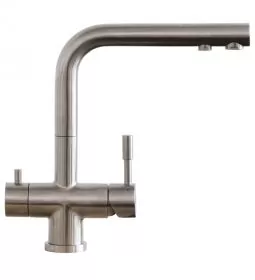 Also known as a built-in filter, these systems with their hoses and fittings are installed under the sink, helping you to remove worktop clutter and create a tidy appearance. Only a small space is required to fit this system. A plumber is required for installation and under normal circumstances takes less than one hour. You can also have your preferred plumber install the system or if you have a DIY background, you can install the system yourself. Cartridges are also easy to replace. Filter casing is made from PP and is easy to connect with a fluoride absorber. The system is also suitable for water revitalisers.
Typically, we recommend our water filtration systems with a blue cartridge, however if you require a slower flow rate, or if your water is highly contaminated, another cartridge may be required – please feel free to talk to us about your needs. You can also view our range of water filter cartridges including an EM "baked in" ceramic to breakdown water molecule clusters and a special anti-lime scale granulate.